Coreco Slim Line Display Freezer with Glass Door
Product Number:
ACRV / ACCV
Finish:
AISI-304 stainless steel exterior, rear side galvanized panel
Doors:
ACRV / ACCV: double glazed door + LEDS
Shelves:
Shelves made of plasticized steel wire, height adjustable
Operating Temperature:
Operating temperature 32°C ambient
Refrigerant:
ACRV- R-134a / ACCV- R-404A
Control panel and engine ventilation grill, removable
Fan assisted condenser unit
Evaporator fan stops when door is opened
Automatic evaporation of defrost water
Digital temperature control, optimized defrost, door open and hightemperature condensation alarms.
Efficient management of energy consumption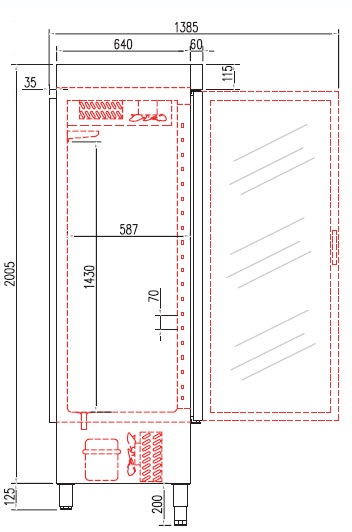 At Angel Refrigeration, we like to work with you closely to help you make the right choice of refrigeration to meet your business needs.
Please contact our sales and technical team for any help or advice.
You can call us on 01327 810370, email us at sales@angelrefrigeration.co.uk or contact us directly from the product page.
We look forward to hearing from you.
Click the image above to enlarge it
Are you interested in this product?
Ask us a question about it
Or call us on
01327 810 370