Coreco Serve Over Display- LINE 9 FLAVOUR
Product Number:
Line 9 Flavour - CVEF
Finish:
Display area and counter in stainless steel AISI-304
Shelves:
Glass shelf non refrigerated
Operating Temperature:
-1/+5°C
Refrigerant:
R-404A
Glass:
Toughened curved glass hinges forward
Climate Class: 3 (25°C 60°%Hr) regime M1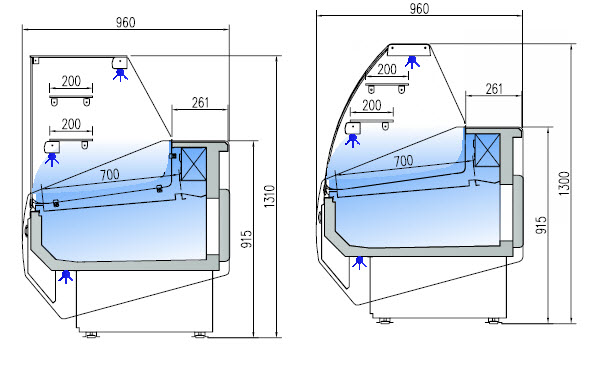 Please note all storage and display cabinets are designed to store or display pre-chilled or pre-frozen products only. Display cabinets are for short-term display of pre-chilled foods. After service or trading, chilled food should be moved to a chilled storage cabinet.
At Angel Refrigeration, we like to work with you closely to help you make the right choice of refrigeration to meet your business needs.
Please contact our sales and technical team for any help or advice.
You can call us on 01327 810370, email us at sales@angelrefrigeration.co.uk or contact us directly from the product page.
We look forward to hearing from you.
Download the User Manual for this product »
Please enter your details below to
download your file
[contact-form-7 404 "Not Found"]
Click the image above to enlarge it
Are you interested in this product?
Ask us a question about it
Or call us on
01327 810 370